Almost every wireless peripheral device maker will state that their products will not work with KVM switches.  What's more, almost every KVM switch maker states that their switch will not work with wireless peripherals.  Both statements are only half-truths.  These statements stem from a desire to limit the customer-support/troubleshooting burden, but for the inclined, there are device-KVM combinations that will play together as long as a few principals are observed.
PS2 KVMs don't tend to work with wireless devices.  I have seen forum entries that state otherwise, but I've never seen this arrangement succeed.  Unless you're willing to buy and return a lot of HW, it's best to stick with USB KVMs.
IOGear/ATEN USB KVMs and logitech/microsoft peripherals tend to be the most compatible with a wireless I/O KVM arrangement.
Do not try to use a common USB dongle for both your keyboard and your mouse.  There are exceptions to this rule (e.g. the Logitech dinovo) but I and others (i.e. forum posters) have noticed that using separate USB-RF receivers for your mouse and keyboard greatly improves your chances of success with this arrangement.  Adhering to this principal means the wireless Keyboard+Mouse  combos are out (huge bummer, but there may be an exception to this rule.  See Dennis' post below).
When connecting usb dongles to your kvm for your usb keyboard and mouse, try to keep some distance between the two dongles.  I have noticed that if I connect my Microsoft and logitech dongles into ports within a few inches of each other there is a noticeable lag in mouse performance.   I'm guessing it's an interference issue since both devices operate in the 2.4GHz range (a very crowded freq range).  To solve my problem I used an extension to connect my mouse dongle to the KVM (actually the extension connects the KVM hub port to my monitor's built-in usb hub, and the wireless mouse dongle connects into my monitor's hub.  See image below).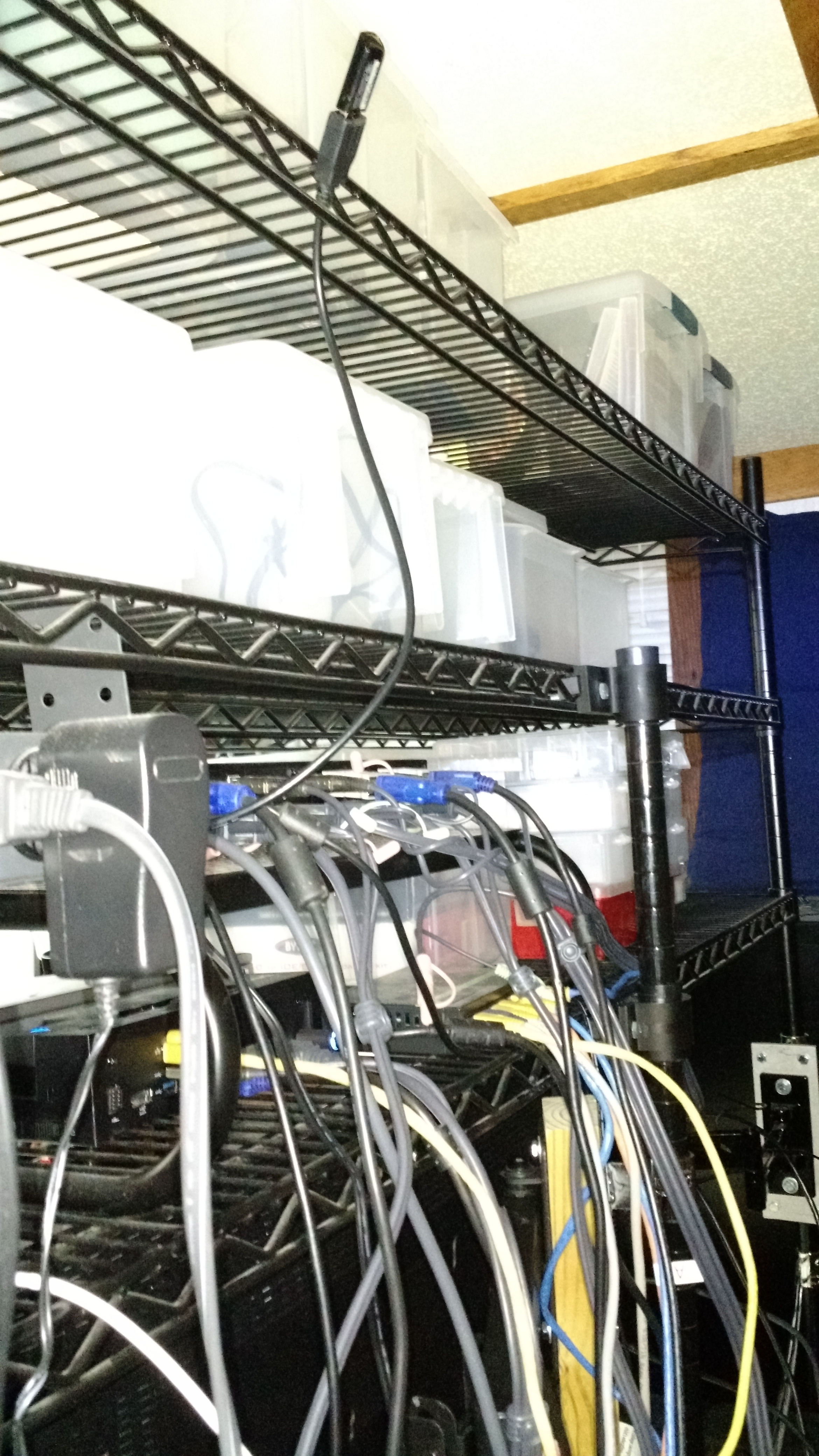 Final Setup: Microsoft 5000 keyboard (not using the paired wireless mouse), Logitech M510 wireless mouse, IOgear GCS1204 (now.  Keyboard dongle is connected to the KVM's keyboard port.  Mouse dongle is connected to the KVM's rear USB-hub port via a usb extension.   Everything works but there is a few second delay between port changes.
Update: The IOgear GCS1204 had intermittent connectivity issues after 4 years of use.  I upgraded to a ATEN CS1644 and it has been rock solid for about a year.  As a bonus there is virtually no delay on port switching.  I'm still using the same mouse and keyboard as stated above.